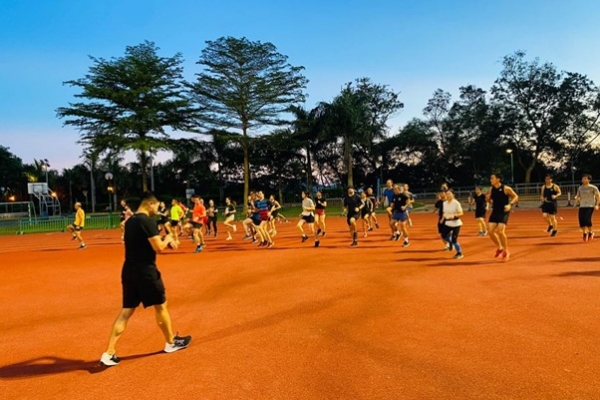 UNI HKU Run
Enrollment date: 7 September 2023
---
UNI HKU Run
There has been a lot of interest in running at HKU. The HKU Run program, which is a running training course open to all of you to enroll, has been gaining increasing popularity, because it is effective and fun. The feedback we have received from the HKU community of runners is that you would like to improve your running performance and running knowledge. In addition, many at HKU would like to join the next Hong Kong Standard Chartered Marathon and would like to safely and effectively prepare for their race. Whatever your interest or goal, the upcoming series of 6 sessions of running training with our experienced coach will help you run smoother, faster and help you improve your performance.

The focus of the HKU Run training sessions is to facilitate participants who are interested in long-distance race events such as 10k and 21k Half-Marathon. Participants will learn about proper running drills, posture, running technique, building of endurance, race pacing strategies and running conditioning exercises, which could be used at the sessions and during runner's own regular running practices.

The HKU Run training sessions are particularly suitable for beginner and intermediate level runners.

It is time to get ready for the race season in 2023-2024 and improve your distance running. Not only will you be able to run faster and more efficiently, you will have fun and get fitter. Come join us!
Pitch 3 Track lane 2&3
HKU Stanley Ho Sports Centre, 10 Sha Wan Drive, Sandy Bay, Hong Kong
HKU full time Students:
$600
HKU full time Staff:
$800
Current RN16 Runners:
$600
HKU Alumni/ Marathon Team:
$800
Course Code
Date / Day
Time
Backup Date
(not for personal absence)
Venue
Enrollment Deadline
Apply
RN17 (FULL)
20, 27 Sept; 4, 11, 18, 25 Oct (Wed)
1830-2030
1 & 8 Nov
Pitch 3 Track lane 2&3
27 Sep
Enroll
RN18
To be confirmed
Enroll
---